Blue Golden Ticked Tabby Scottish Fold - Fold Ear

:: PEDIGREE & MORE PHOTOS::
Born 5/10/13
Sire: ICH Blue Mystery Eliotte
Dam: GICH, UW Paramount Beata Beatrice
I've been looking for a blue Scottish Fold folded ear female for my breeding program for two years and finally found her! My good friend Vik had her hidden in her "private stash" (I'm quoting) and said I asked at the right time. So glad! In fact, it was meant to be because she liked the name I choose for my silver classic - Tiffany - and decided to name this kitten Tiffany. I can't have two Tiffanys, so I've changed her name to Indigo. Indigo has the sweetest face. She's got those big round eyes that's so distinctive in the Scottish Fold breed. Her coat is a deep, rich color of blue that blue freaks love.She is super talkative and wakes me up at with her nightly monologue. She also sleeps next to me.

Her sire ICH Blue Mystery Eliotte is a British Shorthair golden ticked tabby and an International Champion. Her dam GICH, UW Paramount Beata Beatrice is a Scottish Fold silver classic tabby and is a Grand International Champion and Ukrainian winner. She has won several Open Championships and several Best Kitten awards including a lifetime 9th place out of 100 kittens. Her grandparents and great grandparents are a Who's Who of the International show circuit - Grand, European and International Champion titles. When I say "Indigo" is a BLUE BLOOD, I'm serious! Indigo will be shown at some point and bred to Cromwell in 2014..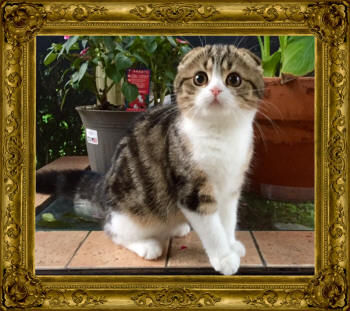 CLICK PHOTO TO ENLARGE


Black Golden Shaded/White Scottish Fold - fold ear

Born: 11/25/2014
Sire: Muse Zed
Dam: Muse Erin


Sable will be replacing Tiffany.
I feel very privileged to own Sable as her breeder doesn't sell breeding kittens but she made an exception for me. Thank you Pamela!
Of course what she does in the future is strictly her decision. When a breeder really cares about their kittens, it really shows and she's a very special lady whom I admire.

Sable is my "pet". She sleeps with me and gives me hugs (she rubs her face up against mine). She talks to me when she feels like it's time to get fed. She knows no stranger and loves to follow the housekeeper around while she's cleaning (Nicole loves her too!). She especially loves the patio and spends most of her day out there snoozing. I adore her and know she will be a fantastic mother!

Her sire Muse Zed is a Golden Classic Tabby/White and has the most gorgeous coat.
He is a straight ear and therefore was not shown. Her dam is Muse Erin and is a Chocolate Golden Classic Tabby/White. She is TICA's 2nd Best Scottish Fold Kitten Internationally 2013. She is stunning.
Sable is the best of both and is a really striking kitten and has a great personality.
Note: Because the classic pattern is recessive and I'm not breeding her to another classic, chances of producing classics is slim.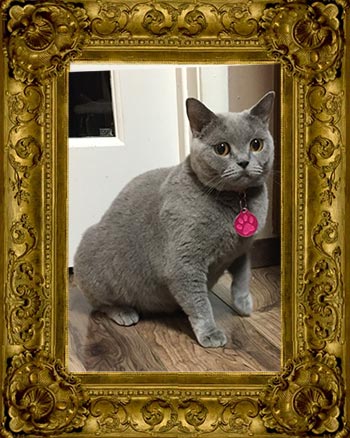 CLICK PHOTO TO ENLARGE



British Shorthair

:: PEDIGREE & MORE PHOTOS
DOB: 05/18/12
Sire: Witches Titan Our Toga
Queen: Elusive Blue Lady Sings the Blues
Alana has been the foundation for my British Shorthair line for several years. She is rock solid in producing beautiful kittens and she's a great mother. She is on the smaller side of the BSH breed and when not pregnant weighs about 7 lbs.
She sleeps on my bed when she feels like it and always brushes by my legs several times/day to get a nice scratch. When she first got here, she was a wild woman. Now she is so laid back and loves attention.

Thank you Olivia! She is PKD, FeLV and FIV negative and there is no history of heart disease in her pedigree. Her male offspring have all tested negative for Factor 9. I hope she will be around for a 1-2 more years and then I will keep one
of her babies to continue her legacy.